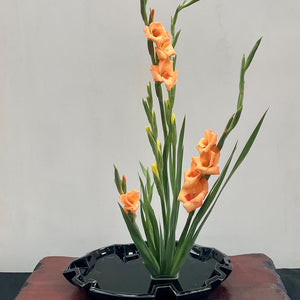 Ikebana Workshop - Beginner - 2023
Regular price
$75.00
$0.00
If applicable,
shipping
calculated at checkout.
Japanese Flower Arrangement
Enjoy the creation of the beautiful art of Ikebana in a workshop. Learn from a professional in a 2.5 hour lesson. This workshop is designed for people...
who are interested in learning Ikebana and have never arrange ikebana before.
who have done ikebana before but require more advice.
We recommend you bring your own ikebana vases, scissors and Kenzan, if you have them. If you don't have them, we can advise you before hand.
Try ikebana for 1 lesson or continue casually anytime. Class times are part of the 10 lesson course held once per month on a Sunday. A new flower arrangement is created each lesson, so it's possible to attend any time.
Tuition fee includes 1 lesson and notes, but not materials.
Sunday Afternoon
Time: 1:00pm to 3:00pm
26 February 2023
26 March 2023
23 April 2023
28 May 2023
25 June 2023
23 July 2023
27 August 2023
24 September 2023
22 October 2023
26 November 2023
Your teacher Megumi is a master of Koryu Shoyo-Kai School in Sydney and holds classes throughout the year for beginners to advanced students. She is a member of Ikebana International Sydney Chapter, participating in demonstrations and exhibitions.
Origins of Ikebana Koryu School
The Koryu Ikebana School seeks to express beauty and elegance using the fundamentals of space, structure and naturalism that has been perfected by its practitioners since it was established in 1760 (Edo period), by Imai Isshiken Soufu. Following a simple, prescriptive pattern based on an asymmetrical triangle whose 3 points represent heaven, earth and man, the Seika style reaches out to us, symbolising both the natural world and our connection to it.